A little over three years ago, Mosaic Manufacturing launched Canvas to the world. It was an important step towards decreasing the complexity of multi-material 3D printing. Since the initial release, Canvas has grown out of beta and onwards to include many industry firsts like painting, stamping, and sharing.
These tools continue along Canvas' vision of providing a simple user experience while offering powerful functionality. As the platform grew more robust, so did the feature set. Canvas now provides internet-enabled monitoring and control of your prints, custom supports, settings histograms, and even access from your smartphone or tablet.
Since the beginning, Canvas has used KISSlicer as its slicing engine. It's a powerful engine with an architecture that simplified the integration of painting and stamping tools. However, other slicing engines now also provide great multi-material tools as well as additional capabilities, and so we thought it made sense to give Canvas users more options.
Today, we are introducing a second slicing engine to the Canvas platform: Slic3r!
Slic3r, especially with the transition to PrusaSlicer, has seen major improvements over the years, both in performance and feature set. With Slic3r, you will now have access to print ironing, additional settings control as well as faster slicing.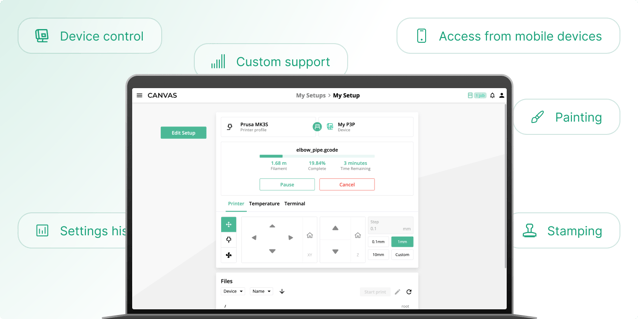 At launch this engine is experimental, but we expect it to quickly gain stability on Canvas. Note that while Slic3r offers numerous features, it currently lacks support for stamping.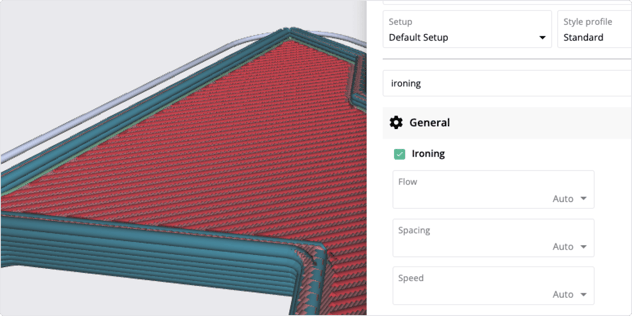 We are grateful for the work done by Alessandro Ranellucci, the open source community, as well as Prusa Research. While today we have been able to offer this engine in Canvas without making any modifications to it, we are excited to contribute future changes and additions back to the open source projects. You can find our code repositories here.
The goal for Canvas has always been to create a software platform, not just a slicer. Offering multiple options for engines is the next step in building this foundation.
The team at Mosaic will continue to develop areas outside of the slicer, challenging the industry to rethink what 3D printing software is capable of.
While Canvas offers a good amount of control, and with this release even more than before, we recognize that some of our customers continue to need ultimate flexibility, despite costs in ease of use. In these cases, we plan to continue supporting projects like P2PP to allow use of Palette outside of Canvas.
We're excited to see what you'll create! Try out Canvas with Slic3r today at:
https://canvas3d.io
If you have any questions, please don't hesitate to reach out to us at support@mosaicmanufacturing.com!